NAAC Assessment & Accreditation Management System
AIMES Cloud ERP System Integrated with NAAC Assessment & Accreditation Management System by Infotech Lab manages proper documentation for National Assessment and Accreditation Council (NAAC).
Acquainting the stake holders (Management, Faculty, and Staff) on the Process and procedures of NAAC Accreditation.
Providing guidance for collection, collation and organizing the institute data documents as per NAAC specifications.
Identifying and guiding the institute staff in their data and the supporting documents required to be uploaded(based on the specialization) in each of the applicable quantitative and the qualitative Metrics of the Self Study Report.
Weightage calculation.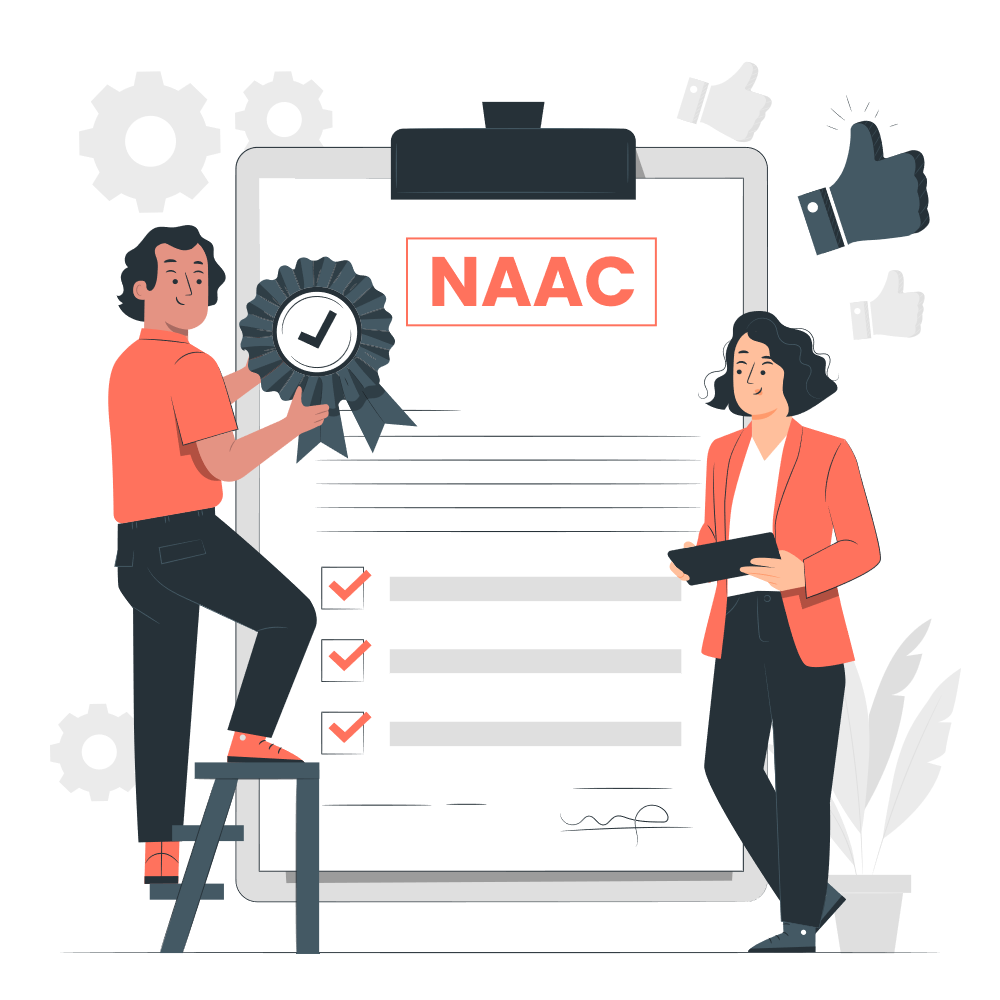 Easily manage documentation for NAAC
Accreditation Management System NAAC accreditation is a significant parameter for RUSA grants, UGC grants, or any kind of financial assistance.
The mission of NAAC, as expressed in its vision statement, is to make quality assurance a crucial component of higher education institutions' day-to-day operations. In order to streamline the process and increase transparency, NAAC has introduced the idea of System Generated Scores (SGS), which combine QnM, quantitative online evaluation (about 70%), and qualitative peer judgement (around 30%). The data-based quantitative metrics QnM require extremely accurate institutional data from the previous five years, including details about staff, faculty, UG and PG students, Alumni, notable events, conferences, certificate courses, and other significant activities promoting the advancement of the institution. Moreover, the NAAC committee demands the online submission of a Self-Study Report (SSR) in accordance with the specified format, along with the required documentation and supporting evidence. Data Validation & Verification (DVV) is a process that filters out inaccurate data from all proofs and reports. Proper reports and statistics during the A&A, therefore, act as a motivator for receiving NAAC accreditation. Colleges must put up a lot of regular work in order to gather and keep accurate institutional data as well as maintenance of proof of that data.
To overcome this messy and exhausting task Infotech Lab launched Accreditation Management System where one can preserve documents and use them easily in the future. Accreditation Management System will examine and evaluate data and give results showing how far the goal is from different aspects.




Guidance For SSR Preparation